Zazpi etxe Frantzian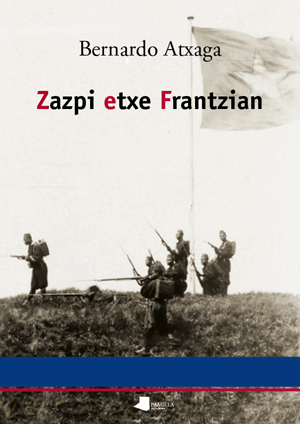 Editor: Pamiela (Euskara)
Year: 2009
ISBN: 978-84-7681-583-0
Pages: 256

The year is 1903, and the garrison of Yangambi on the banks of the River Congo is under the command of Captain Lalande Biran. The captain is also a poet whose ambition is to amass a fortune and return to the literary cafés of Paris. His glamorous wife Christine has a further ambition: to own seven houses in France, a house for every year he has been abroad.
At Lalande Biran's side are the ex-legionnaire van Thiegel, a brutal womaniser, and the servile, treacherous Donatien, who dreams of running a brothel. The officers spend their days guarding enslaved rubber-tappers and kidnapping young girls, and at their hands the jungle is transformed into a wild circus of human ambition and absurdity. But everything changes with the arrival of a new officer and brilliant marksman: the enigmatic Chrysostome Liège.
An outstanding new novel from the critically acclaimed and prizewinning author Bernardo Atxaga, Seven Houses in France is a blackly comic tale which reveals the darkest sides of human desire.
Other editions

Siete casas en Francia
Alfaguara (Castellano) - 2009


Set cases a França
Alfaguara (Catalá) - 2009


Sept maisons en France
Christian Bourgois (France) - 2011
ISBN: 978-2-267-02175-2
Pages: 252
Translation: André Gabastou


Sete casas en Francia
Narratiba K (Galego) - 2009
ISBN: 978-84-96957-61-9
Pages: 276
Translation: Ramón Nicolás


L'ottava casa
Passigli Editori (Italia) - 2011
ISBN: 978-88-368-1259-2
Pages: 226
Translation: Paola Tomasinelli


Seven houses in France
The Harvill Press (UK) - 2011
ISBN: 978-1846554476
Pages: 256
Translation: Margaret Jull Costa


Seven houses in France
The Harvill Press (UK) - 2012
ISBN: 978-1846554476
Pages: 256
Translation: Margaret Jull Costa


Seven houses in France
Graywolf (USA) - 2012
ISBN: 978-1-55597-623-1
Pages: 256
Translation: Margaret Jull Costa


Syv huse i Frankrig
Saxo (Danmark) - 2014
ISBN: 9788792927057
Pages: 215


Shtëpia etetë
IDK (Albania) - 2015
Translation: Bashkim Shehu


Sedum kukji vo Francija
Antolog Books (Mazedonia) - 2018
ISBN: 978-608-243-287-8
Pages: 208


Sete casas em França
Faktoria K de Livros (Portugal) - 2018
ISBN: 9789899958388
Pages: 252