Nevada Days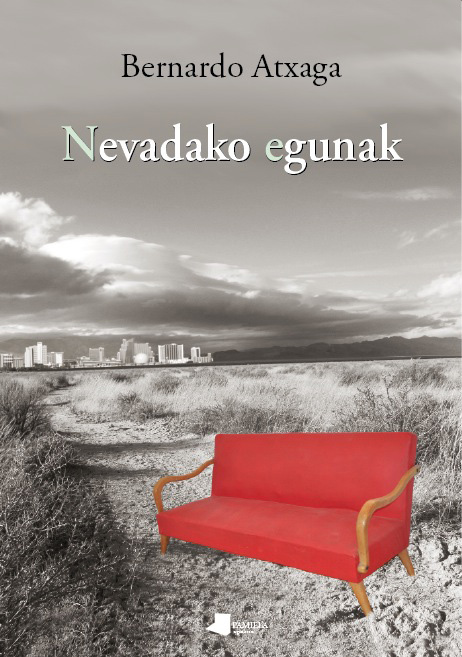 Editor: Pamiela (Euskara)
Year: 2013
ISBN: 978-84-7681-811-4
Pages: 464

Nevada Days is a fictionalised account of Atxaga's nine months' stay as writer-in-residence at the Centre for Basque Studies at the University of Nevada. He is accompanied by his wife, Ángela, who is also doing research there, and by their two daughters. During their first few weeks, the family encounter a strange mapache (racoon), which is always staring at them from the garden, a flight of helicopters immediately overhead, a black widow spider, a warning about bears, a party of prisoners in the desert, a lake that is somehow far too calm and too blue, and, not long into their stay, the kidnap and murder of a young girl living in the house right next door.
Atxaga tells us about all these strange encounters, and about his colleagues at the university, about the trips the family make to California and across the Sierra Nevada and to Lake Tahoe, but this narrative is also interspersed with accounts of his dreams, with stories from his past.
Nevada Days seductively weaves together past and present, and shows us how deeply marked we are by experience and history and relationships, however fleeting or enduring, and reminds us what a very strange thing life is.
"A briliantly inventive writer".
A.S. Byatt
"Not just a Basque novelist but the Basque novelist".
Michael Eaude, Guardian
"Atxaga knows how to entertain, to move and to give the autobiography all the charm of fiction".
J.A. Masoliver Rodenas, La Vanguardia
"A poetic and rhythmic accumulation of stories and reflections, experiences and emotions.
Antonio Lozano, Que Leer.
"The sublime meets the surreal in this hypnotic blend of memoir and fiction by the great Basque writer as he explores Reno, Nevada, an outpost teeming with David Lynch-like menace and haunted dreams.?
Oprah.com.
"A foreboding, atmospheric slow burn. . . . The real genius of this novel is Atxaga's unique blending of autobiography and fiction, of a piece with Karl Knausgaard and Ben Lerner.?
Booklist.
Other editions

Días de Nevada
Alfaguara (Castellano) - 2014
ISBN: 9788420415987
Pages: 408


Días de Nevada
Circulo de lectores (Castellano) - 2014
Pages: 400


Séjour au Nevada
Christian Bourgois (France) - 2016
ISBN: 978-2-267-029-673
Pages: 472
Translation: André Gabastou


Dnevi Nevade
Beletrina (Slovenia) - 2017
ISBN: 978-2-267-029-673
Pages: 468
Translation: Marjeta Drobnic


Nevada Days
MacLehose Press (English) - 2017
ISBN: 978-0857055378
Pages: 400
Translation: Margaret Jull Costa


Nevada Days
Graywolf Press (English) - 2018
ISBN: 978-1555978105
Pages: 352
Translation: Margaret Jull Costa


Dani u Nevadi
Partizanska Knjiga (Serbia) - 2020
ISBN: 978-86-6477-052-1
Pages: 512
Translation: Biljana Isailovic