Atxaga to participate in the Children's Book Show in London
The Children's Book Show, a great literary event for children and young adults, will be in London this year from November 16th through November 20th. Bernardo Atxaga, author of The Adventures of Shola, will be one of the participants.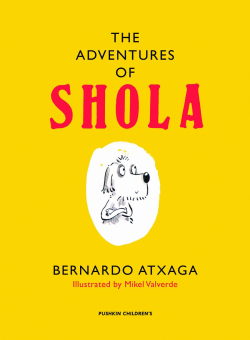 The Children's Book Show will soon arrive in London, bringing together authors of children's and young adult literature. This year one of the featured authors will be Bernardo Atxaga and his English-language translator, Margaret Jull Costa.
The Adventures of Shola (Pushkin, 2013) has been warmly received in the United Kingdom. It was included on the Independent's Best Books of 2013 list and it won the Marsh Award in 2015. The volume contains four stories about a little dog called Shola, each of which has been published as a stand alone book in Basque and Spanish.
The Adventures of Shola will be the star of three events, along with Bernardo Atxaga and Margaret Jull Costa, the English-language translator of Atxaga's work. Monday they will be at the Vaudeville Theatre, Thursday at L'Institut Français, and Friday at Europe House.
In anticipation of Atxaga's and Jull Costa's participation in The Children's Book Show, Daniel Hahn has published an interview with the author and the translator, for the online magazine Books for Keeps.