Buena acogida de la novela "Seven Houses in France"
29-11-2011 ¦ Publicaciones
Tras la publicación de "Seven Houses in France" a principios de noviembre, la edición inglesa de "Siete casas en Francia" está teniendo una muy buena acogida en la prensa británica. Se trata de la sexta novela de Bernardo Atxaga que se traduce al inglés.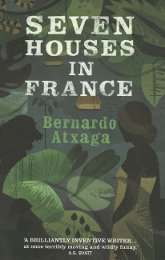 La traducción al inglés de Siete casas en Francia, Seven Houses in France, vio la luz el pasado 3 de noviembre de la mano de la editorial británica Harvill Secker.
Con esta última edición en inglés, Atxaga suma ya seis títulos en ese idioma, ya que anteriormente se habían publicado los siguientes títulos: Obabakoak, The Lone Man, The Lone Woman, Two Brothers y The Accordionist's son.
La novela de Atxaga ya ha comenzado a recibir las primeras reseñas y críticas positivas por parte de la prensa especializada. He aquí algunas de la reseñas que hemos recopilado:
Radio
Además de en la prensa escrita, la novela de Atxaga también ha sido tema de conversación en algunos de los programas culturales más importantes de las radios de Gran Bretaña.
Los programas se pueden descargar en Internet desde las siguientes direcciones: