"Seven Houses in France" eleberriak harrera ona
29-11-2011 ¦ Argitalpenak
Azaro hasieran argitaratu zen Atxagaren azken eleberria ingelesez, "Seven Houses in France". Harrezkero harrera ona izaten ari da. Hauxe da ingelesez argitaratzen den Atxagaren seigarren lana.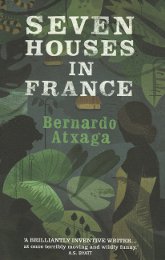 Zazpi etxe Frantzian eleberriaren ingelesezko itzulpena, Seven Houses in France, azaroaren 3an argitaratu zuen Harvill Secker argitaletxeak.
Azken edizio honekin ingelesezko seigarren liburua du Atxagak. Seven Houses in France eleberriarekin batera, lehenago ere argitaratuta zeuden beste hauek: Obabakoak, The Lone Man, The Lone Woman, Two Brothers eta The Accordionist's son.
Atxagaren azken lan hau ere berehala hasi da lehenengo iruzkinak jasotzen egunkarietan. Hona hemen batzuk:
Irratian ere bai
Irratian ere mintzagai izan da zenbait kultur programatan eta saiook entzungai dituzu sarean.