« Back
"Etxeak eta hilobiak", Bernardo Atxaga's last novel
2019-10-29 ¦ Publications
Last Wednesday saw the launch of Etxeak eta hilobiak, a novel that is the result of two years' work and which, as the writer himself has announced, will be his last novel.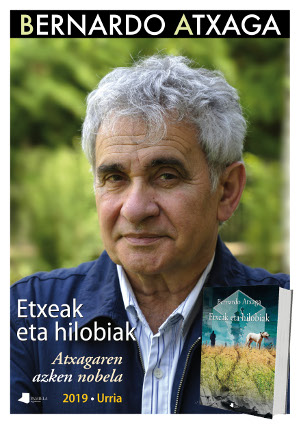 The novel Etxeak eta hilobiak (Pamiela, 2019) was presented at the Koldo Mitxelena Cultural Center in San Sebastian last week.
The novel consists of six narratives that in are independent in principle, but in the end they form what Atxaga calls a "unique universe". Each one travels along its own stream, but in the end they all flow into the same river, guided by a strong narrative logic.
"This will be the last novel I will write", asserted the Asteasu-born writer. Going forward, he will comb through all the notes he has collected over the years and explore new formulas for writing, "perhaps reduced in length, but not in depth".
We have long known the poetic potential of Atxaga and his ability to create rich and complex universes. Readers of Etxeak eta hilobiak will be able to enjoy all this through the mature lens that Atxaga's writing offers us.