« Back
Nevada Days is a semi-finalist for the PEN America Prize for best translation of 2018
The longlists for the 2018 PEN Literary Awards recognize the best works published in the United States during the year. Bernardo Atxaga's Nevada Days is one of the works nominated for the Translation Prize. The shortlist will be released this week, and the winners of the various award categories will be announced on February 26.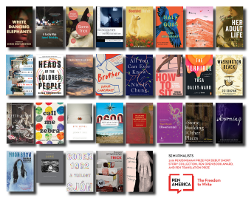 PEN America's longlists of nominees for the best literary works published in the United States in 2018 and in various categories include Bernardo Atxaga's novel Nevada Days, which has been nominated for best translation.
Every year PEN America celebrates literary works published in the US in the preceding year. Thousands of works are published every year, including translations of works from countries around the globe. Being nominated for a PEN prize is a great achievement given the difficulty foreign writers have in entering the US market. In the case of Nevada Days, the warm reception that the English publication garnered in the US surely contributed to its being nominated.
To date only the ten semi-finalists —the longlist—are known. On January 24 the shortlist with the five finalists will be announced and the winner will be revealed in February at the 2019 PEN America Literary Awards ceremony in New York.
Semi-finalists
Nevada Days, Bernardo Atxaga (Graywolf Press)
Translated from the Spanish by Margaret Jull Costa
The Life and Opinions of Zacharias Lichter, Matei Calinescu (NYRB)
Translated from the Romanian by Adriana Calinescu
Disoriental, Négar Djavadi (Europa Editions)
Translated from the French by Tina Kover
The Stone Building and Other Places, Aslı Erdoğan (City Lights)
Translated from the Turkish by Sevinç Türkkan
Mourning, Eduardo Halfon (Bellevue Literary Press)
Translated from the Spanish by Lisa Dillman and Daniel Hahn
Moon Brow, Sharhiar Mandanipour (Restless Books)
Translated from the Persian by Sara Khalili
Love, Hanne Řrstavik (Archipelago Books)
Translated from the Norwegian by Martin Aitken
CoDex 1962, Sjón (Farrar, Straus and Giroux)
Translated from the Icelandic by Victoria Cribb
Trick, Domenico Starnone (Europa Editions)
Translated from the Italian by Jhumpa Lahiri
Aetherial Worlds, Tatyana Tolstaya (Alfred A. Knopf)
Translated from the Russian by Anya Migdal